Office Closed: February 17 - 22 for rec team formation
Reopen: February 25 - space available registration begins
:: DETAILS

Adult schedules: Schedules








Upcoming youth soccer clinics
Join Arsenal Colorado staff coaches for spring soccer clinics. We are excited to host a Spring Break Clinic and Arsenal Soccer School (for those days your player doesn't have school). For complete details click below:
:: Spring Break Clinic
:: Arsenal Soccer School: PSD or Windsor
REGISTRATION NOW OPEN FOR:
:: SPRING Youth Recreational - opens January 8
:: Arsenal Colorado Soccer School - PSD
:: Arsenal Colorado Soccer School - Wind/Severance
:: Spring Break Clinic
:: Mighty Kicks
:: Pre-PDL Academy (for players born in 2012)
:: Adult Spring
:: PDL (home and travel) - Contact the office (970-226-4253) if interested in PDL
NATIONAL LETTER OF INTENT SIGNING 2020: congratulations seniors!
Arsenal Colorado is proud to celbrate to following student- athletes who have signed their National Letters of Intent at this point. We are so proud of you all and excited to watch you continue to grow in your collegiate soccer careers.

Pictured right to left: Stella Bohlender (Colorado Mesa University), John Roberts (Colorado Mesa Univesity), and Paige Moore (Iowa State University).
Not pictured: Josie Novak (Airforce Academy) and Sauvenlyn "Addy" Randel (Colorado Mesa University).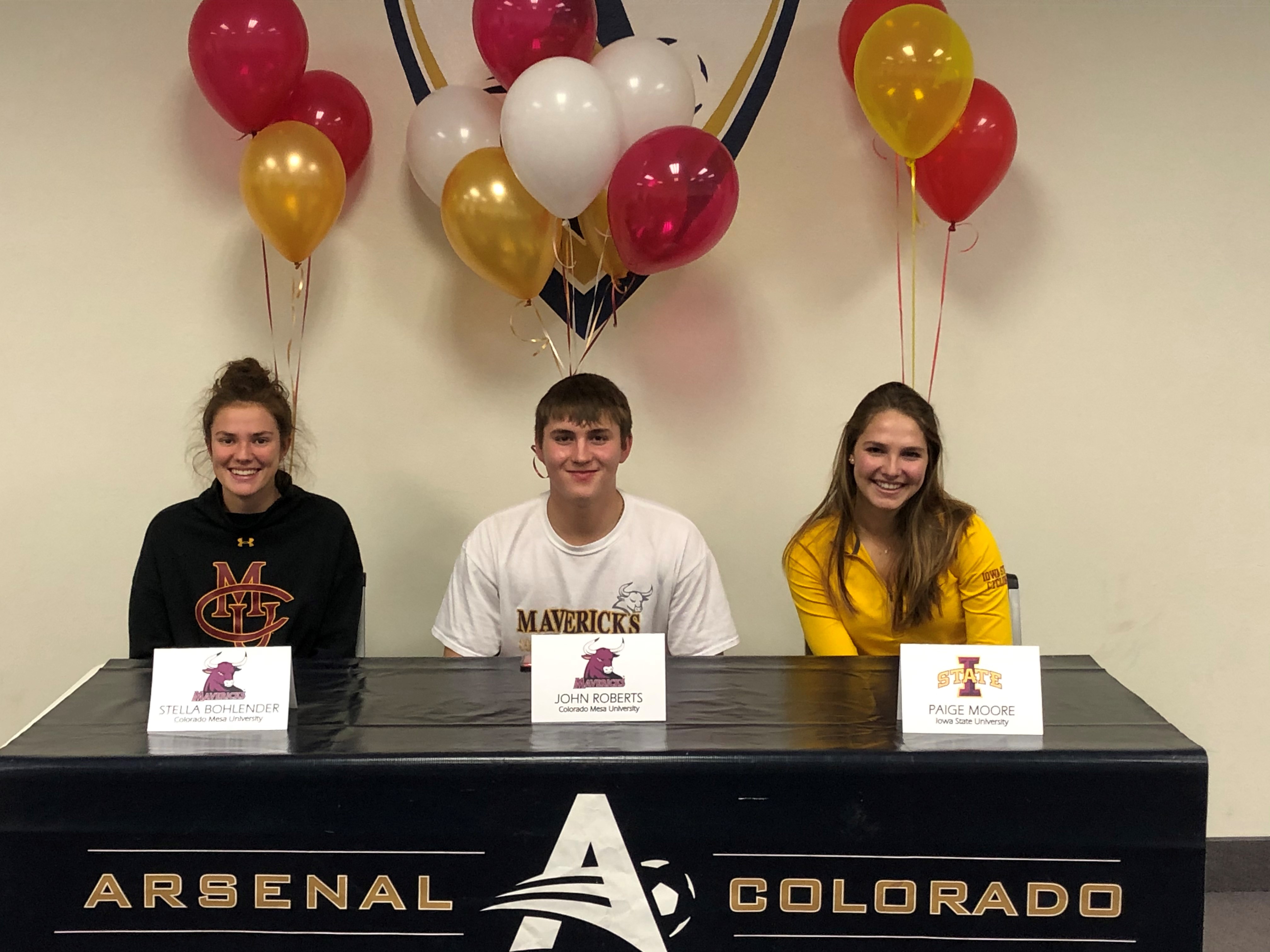 Pictures wanted
If you have pictures you would like posted in one of our photo Galleries please submit them to office@soccerfortcollins.org as attachments! We are always looking for more candid and action shots of our soccer players (recreational, competitive and adult).
VOLUNTEER COACHES NEEDED
The FCSC is a non-profit organization that relies on the use of volunteer coaches to help run our developmental (recreational) program. If you are interested in the rewards of coaching your child's team, please indicate your interest on your child's registration form. We have many resources to offer you to get you started! Or contact the office for more information at 970-226-4253 or...
:: Email us: office@soccerfortcollins.org