Spring Recreational Schedules are posted. Details

Soccer Complex Field Status: Sunday, April 22 - OPEN



competitive informational meetings scheduled
Arsenal Colorado will be hosting informational meetings for players interested in competitive soccer, the Development Academy (DA) and the Elite Clubs National League (ECNL). All meetings will be held at the Senior Center (1200 Raintree Dr) as follows:
:: New player competitive orientation meeting (geared toward 2008 birth year) - Tuesday, May 1 at 7:30 PM
:: DA information meeting (2008-2006) - Monday, May 7 at 7:30 PM
:: ECNL information meeting (2004-2000) - Monday, May 7 at 8:30 PM
:: Schedule / details
Arsenal Colorado accepted into boys Ecnl League
Arsenal Colorado has been accepted into the ECNL Mountain Conference on the Boys side. The Elite Clubs National League (ECNL) is a US Club Soccer-sanctioned league founded in 2009 to enhance the developmental experience of youth soccer players in the United States through improving the competitive environment by the creation of a true national competitive league with multiple flights.
The boys ECNL will include both regular season conference games and cross-conference events. Also, the qualifying teams from the Boys ECNL will advance to the post-season Elite National Premier League (ENPL) Playoffs.
The newly formed ECNL Mountain Conference will consist of the following clubs: Real Colorado, Colorado Storm, Pride Soccer Club, Arsenal Colorado, Rio Rapids Soccer Club, and New Mexico Rush.
The following age groups will be participating in ECNL for the 2018/19 seasonal year:
U14 '05 Coach
U15 '04 Peter Nash
U16 '03 Rob Weappa
U17 '02 Dave Shaffer
U18/19 '00/01 Chris Rosazza
Arsenal will host an informational meeting for the membership on May 7 at 8:30pm at the Senior Center in Fort Collins. Arsenal Colorado is extremely excited and honored to have been accepted into this new competitive venture with The Elite Clubs National League (ECNL).
registration is open for the following programs
:: TOPS
CONGRATS TO OUR 22 SENIORS GOING TO PLAY COLLEGIATELY!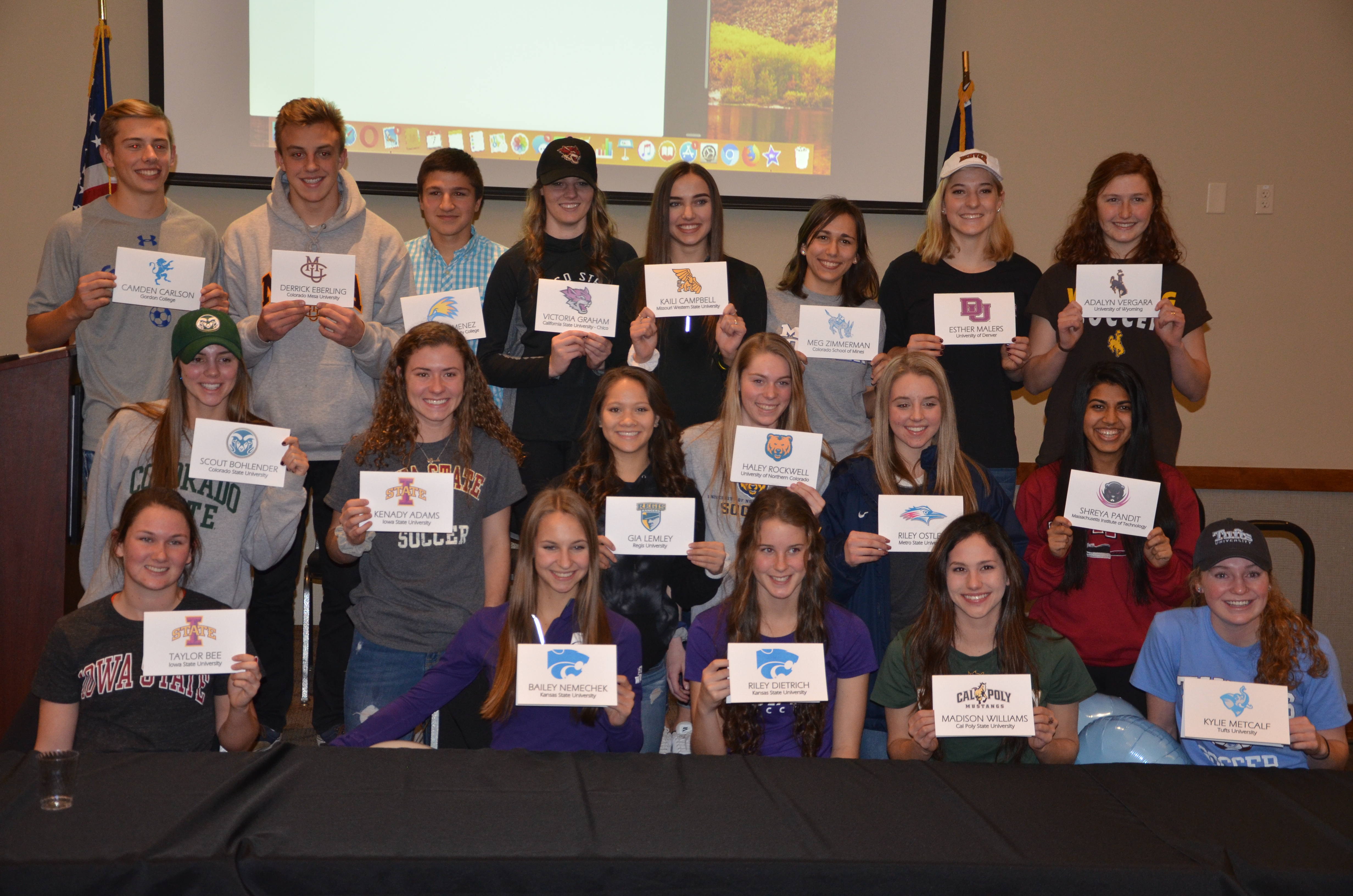 Pictures wanted
If you have pictures you would like posted in one of our photo Galleries please submit them to office@soccerfortcollins.org as attachments! We are always looking for more candid and action shots of our soccer players (recreational, competitive and adult).
VOLUNTEER COACHES NEEDED
The FCSC is a non-profit organization that relies on the use of volunteer coaches to help run our developmental (recreational) program. If you are interested in the rewards of coaching your child's team, please indicate your interest on your child's registration form. We have many resources to offer you to get you started! Or contact the office for more information at 970-226-4253 or...
:: Email us: office@soccerfortcollins.org