Office Closed
Contact staff via email with questions

COVID-19
Arsenal Update: HERE
CSA Update: HERE

Adult schedules: Schedules








Online activity resource guide
Are your kiddos ready for some soccer? The Arsenal coaching staff has been working hard to provide our soccer superstars with fun ways to stay active, engaged and developing their soccer skills. Check out the ONLINE ACTIVITY RESOURCE GUIDE. You will find vidoes, contests and regular content updates for players of all ages and levels. Follow us on social media for updates.
covid 19 update
The Colorado Soccer Association has determined that all play in Colorado will continue to be suspended with the earliest 'Return to Play' date now set for April 18 th. Please read their memo carefully HERE. CSA is taking guidance from federal and local government as well as applicable soccer governing bodies in making this and any future determination. The decision falls in line with the extended state-wide school closure as well. CSA has announced that an evaluation of the feasibility of the new 'Return to Play' date will take place no later than April 3 rd.
The safety of our Arsenal Colorado families will remain first and foremost in any future determination regarding the spring season. While you are most certainly aware that the COVID-19 pandemic remains unpredictable on a daily, even hourly basis, we remain hopeful that we will be able to provide a modified spring season for our members. What this may look like, we still do not know, but there are many reasons why a safe return to play is important. The sport of soccer means so much to so many. We have players who are just starting out on their soccer journey and others who have chosen to make soccer an essential part of their everyday life. Arsenal Colorado truly believes that soccer is healthy for the body, mind, and soul. Especially throughout this pandemic, when healthy opportunities are few and far between, we look forward with excitement to a time when we can once again gather and play.
While our office is currently closed, staff continues to work remotely and will be available by email to provide support. Our coaching staff will continue to find fun and creative ways for players and coaches to grow, develop, and enjoy our incredible soccer community. Arsenal Colorado has strived to provide an excellent soccer experience for players of all ages and abilities since 1978. We are determined to emerge from this crisis to do so for years to come. Please watch for further updates on our website, email, and social media.
REGISTRATION NOW OPEN FOR:
:: SPRING Youth Recreational - opens January 8
:: Arsenal Colorado Soccer School - PSD
:: Arsenal Colorado Soccer School - Wind/Severance
:: Spring Break Clinic
:: Mighty Kicks
:: Pre-PDL Academy (for players born in 2012)
:: Adult Spring
:: PDL (home and travel) - Contact the office (970-226-4253) if interested in PDL
:: Recreational Academy Summer Camp - Registration opens March 11!
NATIONAL LETTER OF INTENT SIGNING 2020: congratulations seniors!
Arsenal Colorado is proud to celbrate to following student- athletes who have signed their National Letters of Intent at this point. We are so proud of you all and excited to watch you continue to grow in your collegiate soccer careers.

Pictured right to left: Stella Bohlender (Colorado Mesa University), John Roberts (Colorado Mesa Univesity), and Paige Moore (Iowa State University).
Not pictured: Josie Novak (Airforce Academy) and Sauvenlyn "Addy" Randel (Colorado Mesa University).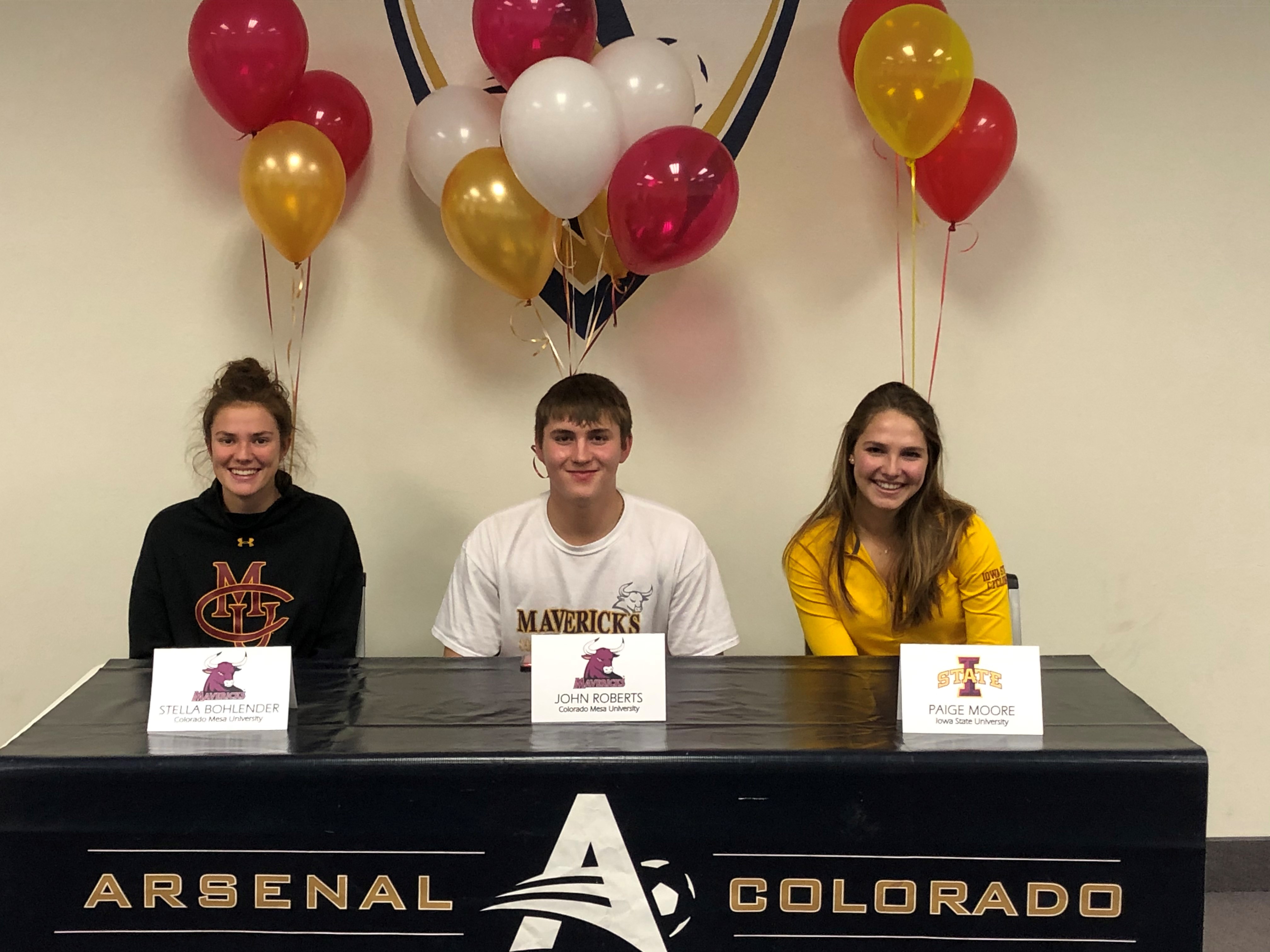 Pictures wanted
If you have pictures you would like posted in one of our photo Galleries please submit them to office@soccerfortcollins.org as attachments! We are always looking for more candid and action shots of our soccer players (recreational, competitive and adult).
VOLUNTEER COACHES NEEDED
The FCSC is a non-profit organization that relies on the use of volunteer coaches to help run our developmental (recreational) program. If you are interested in the rewards of coaching your child's team, please indicate your interest on your child's registration form. We have many resources to offer you to get you started! Or contact the office for more information at 970-226-4253 or...
:: Email us: office@soccerfortcollins.org